Steven Lipsticks and His Magic Band – Opinions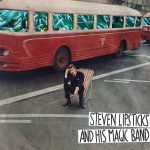 "Opinions," by Steven Lipsticks and His Magic Band, kicks off the way every great song starts: with a simple, memorable guitar hook. We're then launched into a fat slice of chunky rock and melodic pop that finally gives way to old-school dueling lead guitars. In a world where "pop music" equates to "synthesizers," it's good to know that someone is making pure, guitar-based music that sticks in your head instead of bludgeoning your head into submission.
Steven Lipsticks is Stefano Rossetti of Bologna, Italy. His Magic Band is also Stefano Rossetti with a little help from his friends. Stefano writes the music and lyrics, and plays most of the instruments. We featured Stefano's last full-length effort back in 2015. In that review, we asked the question: "Why isn't this guy famous?" Someone who can knock out a great song like "Opinions" deserves to be known by a large and appreciative audience.
Stefano described his previous album, the self-named Steven Lipsticks and His Magic Band as "12 catchy songs blended with a lo-fi attitude, 60s garage and punk-rock, britpop and psychedelic folk." In our review, we noted the maturity of the songwriting and said that "the overall feel is a throwback to the album-oriented music of the mid-70's, when you put the needle down on the edge of the vinyl and didn't lift it off until you had to turn the record over for Side 2." Those same words apply to "Opinions." This isn't a demo or your typical bedroom recording. It's a well-crafted effort, one that I was happy to stumble across in Bandcamp's New Arrivals.
Recordings by Steven Lipsticks and His Magic Band are available for streaming and download on Bandcamp and Soundcloud. And be sure to follow Steven Lipsticks and His Magic Band on Facebook, and YouTube.
For a more in-depth view into the world of Steven Lipsticks and His Magic Band, check out our 2015 feature of his previous album, which includes an extensive Q and A. Stefano was kind enough to answer our questions about everything from influences to equipment, to recording methods.