FreeThinker – Pineapple Sticknpoke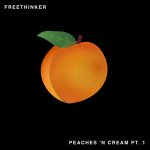 "Pineapple Sticknpoke" by FreeThinker has a classic feel and sound that will be tattooed on your brain after the first listen. Or, in my case, after the first infinity listens. I've been blasting it over and over all afternoon, much to the chagrin of the cats.
"Pineapple Sticknpoke" has a beautiful, original melody over simple chord progressions that are instantly familiar. The star of the show is the voice of Molly Giessing. At this point, being a Certified Music Journalist, I am supposed to insert an Obscure Reference, either comparing Molly's voice to that of someone of whom you've never heard, or comparing a certain element of her singing to that of a famous person of whom she sounds nothing like. I'll just say that, when I heard "Pineapple Sticknpoke," I thought Erika Wennerstrom, Joan Jett, and Brittany Howard. That's good company, but it's an injustice since Molly Giessing's singing is unique, full of abandon and excitement that will suck you in and make you smile..
FreeThinker, based in St. Louis, is Molly Giessing (vocals, guitar, synth), Cody Diehl (drums), Elijah Burns-Wilton (bass and synth), and Chris Murphy (guitar). "Pineapple Sticknpoke" is from their third LP, Peaches 'n Cream Pt. 1, released in August 2017. It seems I'm a bit late to the party, having just discovered FreeThinker today. So sue me. Their sound has been described as "Motown psychedelic rock," but I think the band's soulfulness and power are rooted farther south, in Muscle Shoals. Among their influences, they list Arctic Monkeys, Tame Impala, and The Strokes.
Peaches 'n Cream Pt. 1 is available on Bandcamp. You can support deserving independent musicians like FreeThinker by listening to their songs and downloading your favorites. All albums and singles can be streamed on the band's Soundcloud page.
Be sure to visit FreeThinker's web site, and follow the band on Facebook, YouTube, Instagram, and Twitter.