Rio Devore – Complacent Revolution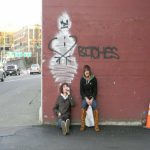 Phil Spector said that he could spot a hit song by listening to the first sixteen beats. Or was it the first sixteen seconds? Either way, I have Phil beat: I can spot a great song by listening to the first sixteen notes. I heard the first sixteen notes of "Sweet Child of Mine" and knew it was one of the all time great songs. OK, maybe that was an easy one. Anyway, here at Reverb Raccoon our goal is to bring you the best songs of which you've never heard. To that end, we listen to the first sixteen notes of a lot of songs. We appreciate the artists who open with a flourish of 32nd notes because it moves the process on that much faster. Most of the songs we hear are terrible. But every now and then, one jumps out that makes sifting through the chaff completely worthwhile…
"Complacent Revolution" is the new single from Rio Devore. Starting off with a surfy-funky guitar, the song glides into tales of the impulsive, yet completely optimistic, days that now live on an unspooled cassette tape in a stash box full of bottle caps and the scribbled lyrics of unwritten songs. "Who remembers the dreams we had, the carefree nature, the feeling that the world was big, but we were going to be bigger?" Rio writes in a description of the song. "What I have learned on the wild ride thus far is that the dreams we had as kids never really go away. The structure of the dream changes but the end goal stays the same. To quote one of my favorite philosophers, Drake, 'A goal is just a dream with a deadline.'"
My favorite lines: You can't drink all day if you don't start in the morning, and Maybe I knew a little bit more at 21 or was it 23?
"Complacent Revolution" and its predecessor, "Almost Famous," are from the album Learning to Laugh at the Sad Parts, set for release April 7. The album was recorded and produced by singer-songwriter Joshua James in American Fork, Utah. James played keyboards, while Rio supplied vocals and guitars. I am impressed by the stylistic differences of the first two singles. "I remember the song writers who solaced me through my headphones and had a way of writing to make me feel like I wasn't alone," Rio wrote. He obviously absorbed a wide range of musical influences through those headphones, which he is now passing on to us.
Learning to Laugh at the Sad Parts and other releases by Rio Devore are available for download on Rio's Bandcamp page. You can support deserving independent musicians like Rio Devore by listening to his songs and downloading a few of your favorites. Or download the entire album. That works, too. More songs by Rio Devore are available on his Soundcloud page. And you can get to know Rio better by following him on Facebook, Twitter, and Instagram.