Shut Up Patrick – Lover Leave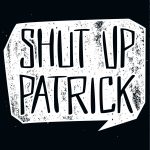 Today's feature comes to us from way up north (relative to Texas) in Kelowna, British Columbia. I had to look this place up. Turns out Kelowna is about halfway between Vancouver and Calgary. I've been to Calgary a few times. I was there once when it was -25F. If it gets that cold in Kelowna, then you'd best stay indoors and listen to some good rock-n-roll like you're about to hear.
Shut Up Patrick is an old fashion Power Trio. For you Millennials out there, that doesn't mean a three-pack of Power Point presentations or an adapter that will power three iPhones at once. It means a band with guitar/bass/drums and a whole lot of attitude. And "Lover Leave" delivers said attitude.
All of the best songs open with a distinctive guitar riff. Sixteen beats and the bass and drums kick in. I'm sorry, but that's the rule. That's what music is supposed to sound like. The riff of "Lover Leave" brought to mind the opening of Los Lonely Boys' "Heaven" if it had been played by Jeff Beck.
Shut Up Patrick is Patrick Watson (vocals and guitar), Ethan White (bass), and Dan Oig (drums). That's the order in which power trio players should be presented. And of course Patrick plays a Strat. "Lover Leave" is from their new EP, Hook Up Culture, five songs recorded, mixed and mastered by bassist Ethan White. On their Facebook page, we learn that "Shut Up Patrick is two advertising salesmen and a radio producer, what could go wrong? We're groove based fringe rock… For your health." We also learn that the band likes food, cats, and music. Anyone who likes cats can't be all bad.
Shut Up Patrick is appearing Saturday, March 17 (my birthday) at The Grateful Fed, 509 Bernard Ave. in Kelowna. I bet this band kicks ass live. Hook Up Culture is available on the group's Bandcamp page. Be sure to support deserving independent musicians like Shut Up Patrick by listening to their songs and downloading a few of your favorites. Or all of them.