Ruse of Fools – Happy Song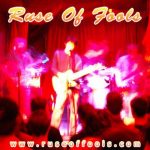 Today's feature comes to us from Philadelphia, the city that booed Santa Claus. It's also the city that won the Super Bowl. I wore a Nick Foles Eagles jersey on my honeymoon last week because Nick and I are both winners. And you're a winner, too, because you came to Reverb Raccoon in search of the best new music of which you've never heard. No one will boo today's song, because it's a "Happy Song."
"Happy Song," by Ruse of Fools, starts with a simple piano figure, adds successive layers of guitars and keyboards, and builds to a melodic wall of fuzzy sound. All songs should be structured like this.
The cool video that accompanied the release stars a guy from the Arthur Fonzarelli School of Automotive and Aquarium Repair: one tap and the job is done. I'm somewhat conflicted about whether I want to hire his gal pal to handle my next makeover.
"Happy Song" is from the new album, Reece. The track is, uh, happier than the album as a whole, which has songs with titles such as "Be Numb," "Random Acts of Violence," and "Sleep Like We're Dead." But that's OK; those may be the songs for another day, or maybe were the featured songs in a past life. But today I'm singing a "Happy Song."
Ruse of Fools is, according to the Bandcamp page for Reece, Mark Gonzalez, Lee Dash, and 'Solid' Steve Nathanson with additional performances by Katelyn Petherbridge, and Charles Keener Jr. On their Twitter page they describe themselves as an "indie rock band who also acts as society's punching bag" and their pinned tweet is, "The bullying doesn't end after high school, it just becomes less physical." Hmm. Their website and Soundcloud page are fairly minimal, but they have a Wikipedia entry that says Ruse of Fools has performed with Tyler Hilton and Terra Naomi, and that the animated video for a previous release was "featured on MTV." On their Facebook page I learned that they've been around since 2003 and like bands that start with the letter D. I knew my stalking skills would come in handy someday.
Reece and the previous album, Art Is Dead, are available for download on the Ruse of Fools Bandcamp page. Be sure to visit and support deserving independent musicians like Ruse of Fools by buying a few of your favorite tracks.