Do you feel Luck, Now? Well, do ya, punk?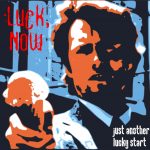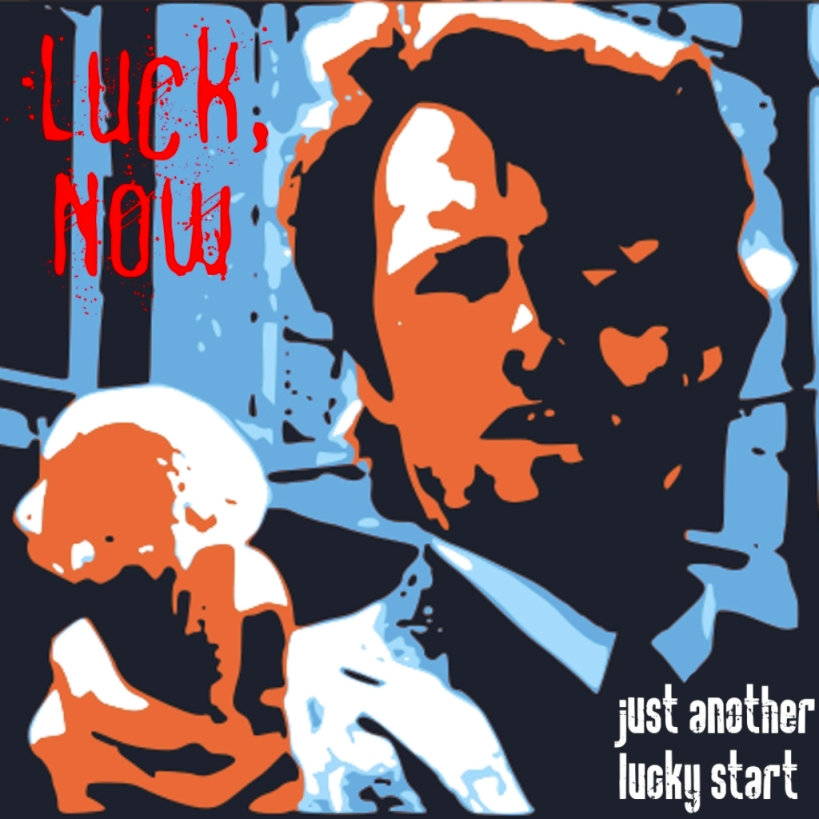 What is the luckiest thing that has happened to you of late? If you answered, "When the truck hit me, my car was totaled but I spilled only half my beer," then maybe you need an uplift in the luck department. You need some Luck, Now! Try this: crank up Luck, Now's new EP,  Just Another Lucky Start, and enjoy some of the best power pop on this side of the River Po. Luck, Now isn't trying to change the world. But, if you're lucky, they might change your afternoon. And sometimes that's all you need!
Based in Mantova, Italy – Mantua to you Americans out there – Luck, Now is the creation of Matteo "Manga" Manganelli and Andrea "Vicky" Grazioli. Just Another Lucky Start features Matteo on guitars, bass, and vocals, and Vicky on drums and synth. The EP comprises five tracks with, in the band's words, "short songs, catchy melodies, saturated guitars, and a dumb synth." Which is pretty much the definition of Good Music.
The opening track, "23rd Floor," immediately brings to mind some of the best early 80's bands, from days when artists such as Marshall Crenshaw were infusing the energy and thrashing guitars of Punk and New Wave with the melodies and song structure of pop.
"August" delivers a less-than-two-minute dose of self-analysis. This guy has some problems but, hey, who doesn't? Crank up the guitar and crack open a beer!
Since recording the EP, Matteo and Vicky have added some band mates for the live shows. The current lineup:
Matteo Manganelli – Bass and Vocals
Andrea "Vicky" Grazioli – Drums and synth
Giulio Gobbati – Guitars and backing vocals
Francesco Righetti – Guitars, synth and backing vocals
With the help of the Internet, we "caught up with" Matteo for an email interview…
Your previous band was What, Really? Your new band is Luck, Now. Do you have a thing for commas?

The name "Luck, Now" comes to my mind from Seconds, an amazing graphic novel by Bryan Lee O'Malley (author of the best seller Scott Pilgrim, another wonderful comic). The novel features Lucknow Street [in Halifax, Nova Scotia], like the Indian town. But in my mind it sounded better with a comma. Plus, starting a new band always requires a bit (or a lot) of LUCK.
Tell us about your home town. Are there good opportunities for bands to grow and be heard there?
We're based in Mantua, as we like to call it "a beautiful shithole lost somewhere in the fog in northern Italy." It's a small town, beautiful with a lot of history and ancient architecture. Living is easy, no-stress, and you're not so far from the largest (all relative to Italy, don't forget) cities like Milano, Bologna, Verona etc. It's a very small town, few clubs, and not too many opportunities to play there. We're always looking for gigs outside town, even if it's cool to play sometimes at "home."
Is there an underlying philosophy to your music?
There is no particular philosophy underlying our music. Only "melody + short songs + play it loud!"
How do you answer the people who say "It's JUST a pop song!"
I say, "That's the way we like it!"
How was the EP recorded, and how has the band evolved since then?
The songs were written by our ex-singer, who had to leave for work. So we remained a duo (me and Vicky) and decided to re-arrange everything and recorded all the parts by ourselves with a 8- track recorder. Afterwards we found two old friends (Gubba and Checo) to play guitars and do backup vocals, and started to play live. We're currently writing new songs with this lineup.
I love the EP's cover art.
The cover art is a frame from "Dirty Harry." It's when Callaghan says the very famous quote "Do you feel lucky, punk?" Vicky worked on it with Photoshop changing colours and putting in an ice cream instead of the gun. It's a little bit silly, but we like it.
What do you do when you aren't making music?
Of course we all have day jobs (rock music doesn't pay the bills!) Plus, we're all in our thirties and play for fun. No dreams to become the next rockstar here. I am a teacher at high school, Gubba is a lawyer, Vicky is about to get his MA in Chemicals Engineering and works with his dad, Checo works for a company.
You've said that you are influenced by 90s power pop. But I hear more of a late 70's / early 80's influence: Modern English, Modern Lovers, Marshall Crenshaw. Have you listened to those artists, or is their influence more indirect?
Yea, we're influenced by 90's power pop and artists like Weezer, Fountains of Wayne, early Green Day, early Foo Fighters, Ash, and a bunch of others. Obviously we all love many different types of music. I really don't hear an 80's influence. Sorry, but I never listened to them and knew nothing about the bands you mentioned! But I'm listening to some tracks right now and I like it! [This is probably how my dad felt when he told me how great Glenn Miller and Benny Goodman were. -RR]
Do you have any last words for Reverb Raccoon's vast hoard of loyal readers?
Follow us online, listen to our music and invite us for a gig in your town. Playin' live is the best type of holiday we know!
Thanks, Matteo, those were great answers. Just Another Lucky Start is available for streaming or download on Bandcamp. It's "name your price," so be sure to throw a few Euros their way. And be sure to join Matteo and the boys on Luck, Now's Facebook page.
Bonus Track 1: We featured Matteo's previous band, What, Really? way back in October 2013. Here's "Ophelia (Among the Flowers)," a great track from that effort.
Bonus Tracks 2 and 3: Speaking of power pop influences, here are a couple of tracks from the Memory Vault. First, "Roadrunner," by Jonathon Richman's Modern Lovers. Recorded in the Paleozoic Era of 1972, the band featured Jerry Harrison (later of Talking Heads) and David Robinson (later of The Cars). Then we have a lost power pop classic, Bram Tchaikovsky's "Girl of My Dreams" from 1979. Enjoy!