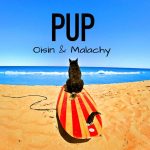 Welcome back cats, kittens, lovers and other strangers! It's me again. The cat.
The Food Guy and I just returned from Perth! That's in Australia which is near the bottom of the world! When I first got off the plane I was holding on tight with my claws because I didn't want to fall off the Earth. But The Food Guy said I didn't have to do that. He said Gravity would hold me on. I saw that movie and all I remember is people floating around and NOT being attached to things. So I held on with my claws for a few days just to make sure I wouldn't go flying off into space.
One Saturday when The Food Guy was playing with his PowerPoints I decided to go out and explore the town. Somewhere on Hay Street I ran into a cool dog named Sid the Blue Heeler. Or maybe it was Syd. He warned me that Australia has a stray cat problem and that if I was caught on the street I might be "disposed of." I don't think stray cats should be disposed of. Fluffy the Idiot Cat and I both started our lives as stray cats and we grew up to be productive members of society. If you give a stray cat some food and a warm place to sleep and a clean litter box it will be a Tu Ta, which is catspeak for "Good Cat." But I didn't want to run afoul of the authorities, so Sid and I trotted down Shafto Lane to a pub called Durty Nelly's. We sat out on the porch and we each had a pint of Tooheys.
I told Sid that I sometimes write music reviews when The Food Guy is too lazy to do it, and Sid said that was a coincidence because he manages a band called Oisin and Malachy. He wrote the name on a napkin so I would know how to spell it. Their names are pronounced O-sheen and Mal-a-key and they are brothers.
After we finished our beers, Sid and I slipped around the corner to the Murray Street Mall where Malachy was busking and selling copies of Oisin and Malachy's CD, Pup. Most of the audience seemed to be the human equivalent of stray cats, but the music was great and everyone was enjoying the warm sunshine. We listened to the music until people started to give us strange looks, then Sid ran up and nicked a CD from the guitar case. Sid made sure I got back to The Food Guy's hotel without being disposed of, then he left the CD with me and took off down St. George's Terrace. He was pretty cool. For a dog.
Pup features 7 tracks and I enjoyed each of them. Considering they are managed by a dog, Oisin and Malachy manage to make some great Cat Music. Lots of acoustic guitars, no banjos, good vocals and easy harmonies. I would call this Folk Rock, but both the Folk and the Rock are understated. It sounds like the music cats and people make on the beach when they look into the sunset and think about where they have been and where they are going.
"Leaving Song" has some tasty guitar fills and that wistful tinge in the lyrics that marks the best surf music. The Food Guy says it reminds him of an old group called Brewer and Shipley. I don't know about that. I know the guitars and vocals weave together an inviting cloth that any cat would like to nap on.
The title track, "Pup," starts off with a little bit of Yes and ends up with a lot of Bruce Springsteen.
I give Pup four paws up, plus a tail and a few whiskers. It's available on Bandcamp for the low price of 10 Australian dollars. And check out Oisin and Malachy's great cover of "Faith." Be sure to join the guys on Facebook. Look them up if you pass through Perth. And say "Woof" to Sid the Blue Heeler.