The Sweets – Greatest Hits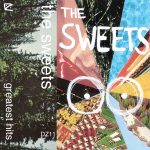 The Sweets Greatest Hits is a wonderful lo-fi mess of hooks, stuck-in-your-head melodies, reverby guitars, and wistful energy. But through the hum, hiss, and distortion, you hear, feel, and enjoy the unique creativity that drives The Sweets.
The Sweets are brothers Zach and Justin of Winston-Salem, North Carolina. Their last name may be Romano (as reported by Chunky Glasses), or it may be Romaro (according to The Morning After). Or they may be Justin Hrabovsky and Zach Romeo, the credits listed on at least two of their EPs. Whatever; names don't mean much to these guys. After all, they borrowed their band's name from an old Soultown girl group. In January 2013, Zach and Justin set out to release an EP every month for a year. The effort produced around 50 songs, all given away through free downloads. Eighteen of the best tracks were gathered into Greatest Hits.
Warning: the cover art for most of their EP's features startlingly naked women. As in NSFW. But if you're into that sort of thing, visit their Bandcamp page to view a some of the covers. So… we thank The Sweets for Free Music and Boobs! Woo-hoo!
With the help of the internet, we "caught up with" Zach and/or Justin for an email interview. We were joined by Milkshake, the cat that became famous for her insightful reviews of The Loomis Fargo Gang and Newglads' "Make Believe."
Reverb Raccoon: I know your names are Zach and Justin. Do you have a last name?
The Sweets: We were never very good at riddles.
RR: Your goal was to release an EP every month in 2013. Did you succeed?
TS: We mostly succeeded. We had 12 releases, although near the end of the year they weren't released as much on a month-to-month schedule. We're more excited about having 4 physical releases coming out [on Bleeding Gold Records and Goodbye Boozy Records] in the first 4 months of 2014. The Bleeding Gold 7" will be out in March. The Goodbye Boozy 7" will be either April or May. We also have another cassette coming out on Bleeding Gold this week. It's the second split cassette with our buddies Petey. We've been trying to stay busy.
RR: Last year you were both still in school. Is that still the situation? What are you studying?
TS: Zach is a film student at NYU and Justin studies Music Technology at UNC Asheville.
Milkshake: The Food Guy's kitten went to NYU! We were all eating cheap cat food back then!
TS: We're still in school, which makes it hard to play live frequently since we're kind of spread out geographically. But every break we make sure to get together and play some shows, even if they're just around NC.
RR: Can you describe your collaboration and recording process?
TS: One of us will start a demo of a song, and then we will send the project files back and forth to one another using Dropbox. It's great to have that as a resource. The Sweets would not exist without the internet. Although, our best songs have definitely been written with the two of us in the same place.
MS: My favorite songs on Greatest Hits are "Coupe Deville," "Paint On My Hands," and "Come Back, Sweet Thing."
TS: Thanks Milkshake!
MS: How would you describe the songs if you were one of those "I have 5000 CDs under my bed but have never been with a non-inflatable woman" bloggers?
TS: We've sadly never been very good at describing our own music. Although if anyone is collecting thousands of CDs while having sex with an inflatable women, that would be a pretty interesting blog. Vice would eat that shit up.
MS: Maybe the Food Guy can do it. He fits the profile.
RR: Milkshake, you know I don't have 5000 CDs under my bed. I had to move them out after you bought all those Iron Butterfly 8-tracks at the garage sale. And I haven't been able to inflate Elly since you used her as a scratching post. So guys: do you use other musicians on your recordings or is it just the two of you?
TS: On all of our recordings from 2013 it was just us two. On our two upcoming 7''s through Bleeding Gold Records and Goodbye Boozy Records, though, we have our entire band playing with us. We play as a four piece live with our friends Justin on bass and Danner on drums.
MS: How did you record the drum tracks on the EPs?
TS: Only 4 songs on Greatest Hits have live drums ("Red Nose," "Honky," "I Know I Know," and "West"). Those were recorded pretty poorly with a single overhead mic. The other songs all use drum machines. Our 7"s have live drums, though.
RR: Is there a fine line between "Lo-Fi as a virtue" and "Lo-Fi as a detriment?"
TS: We like the "Lo-Fi" sound, but we never record with the mindset of "Let's make this sound 'lo-fi!'" It has more to do with the equipment we record on and how we record. We do all of our writing, recording, producing, and engineering ourselves. We've never been recorded in a designated recording studio; all of our recordings have been done in basements, garages, bedrooms, and dorm rooms. Our most recent recordings have been done using a 4-track Tascam Portastudio tape recorder from the early 90s, which I guess contributes to our recordings sounding "Lo-fi."
RR: Like many musicians, you are releasing music on cassettes. What is behind the resurgence in a medium that most of us were happy to declare dead?
TS: We think cassettes are great. Of course, personally, we collect vinyl much more, but I would say that the biggest reason for the resurgence of cassettes is that they are much cheaper to produce, and therefore cheaper to sell to people. It's a nice medium for music fans to be able to own a physical copy of music they like, without having to shell out extra money for vinyl. Plus, most physical music now comes with a download code so people get the best of both worlds. There's definitely a nostalgia going around for physical music now that mp3s and streaming online have essentially become the standard for how the general population hears music.
RR: Is there such a thing as a "Winston-Salem Sound?"
TS: There is no such thing as a specific "Winston-Salem Sound." Growing up, all of the high school bands in the area were shitty "folk" artists attempting to be the Avett Brothers and Mumford & Sons. There seems to be a growing appreciation for garage rock, though, as evidenced by the lineup for the Winston-Salem music festival, Phuzz Phest, at which we are playing alongside some awesome artists, like White Fence and Diarrhea Planet. But we really appreciate artists like The dB's, who came from Winston-Salem around the time power pop became popular (post Big Star). It's really cool to us that people from Winston, such as Chris Stamey from The dB's, got to work with Alex Chilton, who is a big influence of ours.
MS: On some of your songs you sound sad, like I get on a cold day when the squirrels and chipmunks won't come out to play. Like you are thinking about when you were in high school and how it would be nice to go home and play with the other kittens again.
TS: We never specifically set out to create a song with a "melancholy mood" so to speak. Sometimes it just happens that way. I'd say the sound of whatever song we're writing at the time tends to come out of whatever we're listening to at the time.
MS: I like the video for "She Says." Some big kittens playing with a ball. Are those your littermates?
TS: Thanks! We like it too. It gave us a reason to play catch. They are our littermates.
RR: Who should I start listening to?
TS: Listen to our buddies Petey and Aunt Sis! Some of our favorite artists, in no specific order, include: The Velvet Underground, Big Star, The Strokes, The Beach Boys, The Beatles, Kanye West, Real Estate, The Modern Lovers, Galaxie 500, Spacemen 3, Os Mutantes, The Feelies, Devendra Banhart… the list goes on and on.
MS: You guys are still kittens! How did you have time to absorb so many influences?
TS: Yeah, I suppose we are! Our ages range from 19 to 21. We've just always loved music.
MS: The Food Guy says the influence of The Velvet Underground skipped a generation. He likes to say things like that. What does he mean?
TS: The Velvet Underground has influenced nearly every artist worth listening to since their beginning. Maybe in some cases it has been less noticeable, but it's still there nonetheless. We <3 them.
RR: What are your goals for 2014?
TS: Setting up a legitimate tour in the States.
MS: Do the ladies on your album covers have mange? Because they have lost all of their fur!
TS: We never asked them!
RR: And finally, what message would you like to send to Reverb Raccoon's vast hoard of loyal readers?
TS: Start calling beers "froth puppies" and saying the phrase "yes, daddy" to your friends and loved ones.
MS: Who writes better reviews, me or the Food Guy?
TS: We just like anyone that gives us food. I think we share that in common!
Thanks a lot to The Sweets for a fantastic interview! Join Zach and Justin on Facebook and Twitter. Download The Sweets Greatest Hits and other EPs on Bandcamp.
And be sure to download their latest EP with Petey, Regis Philbin / Zing Zang. Or order the cassette from Bleeding Gold records. Or get both! Yes, Daddy!
BONUS VIDEO: "She Says" by The Sweets!