Feral Conservatives – Mandolin. Indie. Rock.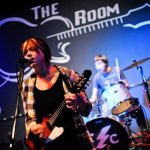 Feral Conservatives deliver powerful, well-crafted songs … that happen to feature the mandolin. Rashie Rosenfarb (vocals, mandolin, bass, piano) and Matt Francis (drums, percussion, guitar, organ) challenge you to accept the reality of their music. If a female singer playing an electric mandolin shaped like a Gibson Firebird and backed only by a manic drummer summons visions of a bad SNL sketch, then you have failed the test. And you will miss out on some very good music.
Feral Conservatives released their first full-length album, Breaks and Mends, in November 2012. The songs cover a range of attitudes from aggressive ("Can't Do This" and "Friends Bail Always") to wistfully sentimental ("Captivated" and "Brighter Dawn").
In between are folkish rockers ("Control," "Hourglass (Take the Time)") that will make you believe that a mandolin should drive an indie band.
"Captivated," a piano-based ballad covered with multi-tracked harmonies, deserves special mention. It stands out like a beautifully aching thumb, a starry-eyed refugee from another album. We (the cats and I) hope to hear more of these orchestral influences integrated into the songs of the next album.
On many tracks, Rashie's vocals are mixed right at the front, not buried beneath the instruments or deflected with reverb. The effect can be startling: you hear every expressive bend and breath. But it lends the songs immediacy, intimacy, and reality. Feral Consevatives do not hold you at arms length, they grab you by the ears.
Drummer Matt Francis was kind enough "sit down with us" via email for the first "interview" to ever appear in Reverb Raccoon. He shares his insights on the music of Feral Conservatives, and whether an indie band can actually triumph in a noisy world.
RR: At what point did you say "Mandolin + Drums = Rock?"
MF: It was more out necessity. We originally intended for the band to be a rootsy side project and we got our rock-n-roll angst out through a more traditional rock trio (Rashie played bass in that band). When that band ended, we injected that spirit into the folk instruments we use to construct our sound. It seemed cool and, more so, it seemed to work for us. We love folk, indie, punk, garage, and all those elements make up our DNA.
RR: On your recordings you add guitar, organ, piano, and bass. Are you able to incorporate them into your live shows?
MF: Not at the moment. We're playing as a duo but we won't rule it out in the future. We did rule out the use of samples to supplement our live sound — we don't want to be tethered to something that can't feed off of our created energy and spontaneity. We treat it as a challenge to give people a full experience with a big sound, boiling the songs down to their essential elements. Our songs need to work on that level, so it is a challenge. We do use an array of pedals to give the mando some low end.
RR: Some of your song structures are more complex than the typical indie fare. Do you have any formal musical training?
MF: Rashie has more traditional training — her whole family are all savants, very musically inclined. She's also had classical piano and violin. I write songs, more so than I ever did in other bands when I was strictly confined to beats. I think I bring a sense of dynamics to whole parts. Even when writing on guitar I'm thinking very rhythmically and I'm conscious of how timing brings contrast and interest. Speaking of which, our next album features new time signatures!
RR: What is your songwriting process?
MF: We write mostly separately and bring "functional" forms to the table, not full forms. We build the songs up and then deconstruct them, but it all takes shape in a room on our respective instruments.
RR: Your songs have tremendous energy. Where does it originate?
MF: I listen to a lot of music but what resonates most to me is dissatisfaction. There's always that element of straining on your tip-toes to see over the barricade. I guess it's two-fold, in that loss and heartache is infinitely more inspirational than love and contentment. Not just in darkness, but in change. In subverting the equilibrium. In demand. In spirit. Everything else is static, and static is boring. Also, rock and roll is more fun to play live. There's life in that energy.
RR: Do your roadies argue over who gets to carry the mandolin and who has to carry the drums?
MF: Ha ha. Considering we are our own roadies, I try to be the gentlemen and get the heavy stuff. We definitely both carry our fair share, however.
RR: In one of the videos you are wearing an 80's-era Astros jersey. Are you originally from Houston?
MF: No, that shirt was my dad's (who also isn't from Houston). In the 80's he had a bunch of major league teams from all over. I think he gave them to me as pajama shirts. I like their fit and feel, and tend not to discriminate as long as it's not the Yankees. But yeah … go Tigers!
RR: The band is based in Virginia Beach, which used to be known as a great town for live music. Is it still?
MF: No … well, maybe if you're a Jimmy Buffett cover band between the warmer months. We've actually lost a good deal of those classic venues you may be thinking of. The general idea is to get out, or tap into Richmond. Not much happening here, not for original music, not for rock n roll.
RR: Technology has made it possible for independent bands to make and distribute their music, and to connect with a wide audience. But there is tremendous competition for the listener's attention. Can an indie band really make a decent living?
MF: There is certainly a lot of noise out there. I think we triumph this current social media / instantaneous climate because it has eliminated the traditional gatekeepers (record labels, A&R scouts). But I think it just gave way to a different kind of gatekeeper, or taste-maker. The need for big-box retail distribution is nil, so I think the challenge isn't accessibility — everyone has accessibility. Even the ease of distribution, or getting press comes two-fold — literally anyone can host a website that acts as distribution, and any one can create an online publication to be vied for by the many artists.
It becomes about signal vs. noise. It is to be worth listening to. To rise above. But it also lends to a self-promoting conundrum … you have the ability to engage fans in the same avenue as major artists, but it stills takes a strong and concentrated push. There's a glut of people better at self-promoting than us, and that can be because they are (more) shameless or had more friends in High School.
But can an indie band make a decent living … we've seen it happen, sure. But the internet, the touring — it has brought to my attention how much talent is out there … how many great songwriters, the ease of pro-tools bedroom recording, the accessibility to great mid-level producers and even song placement that's within anyone's grasp. It tells me you can't fake true fan engagement.
I just appreciate every opportunity we get. I look at is as this: the current landscape lends for anyone to create. If you have a few hundred dollars, you can afford a professional studio environment. You can book a show over e-mail with a free Facebook profile … people come back if it's good. Be genuine. Create quality. Create honestly. If you suck, enjoy the fact that you're making small progress in a dead end dream that will exhaust the goodwill of anyone who will listen or any venue that will book you. If you're good, those same steps will create more opportunities, and lead to more after that. But you've got to enjoy it. And you've got to keep challenging yourself.
We'll be on Conan next week. Check your local listings!
RR: You are both accomplished artists (Rashie: acrylics and pencils, Matt: photography and filmmaking). Is there a balance between "art" and "music," or is it all one experience?
MF: I see the band as an art project. It's a great medium to feature photography and Rashie's painting. I graduated with a film degree and have self produced all of our music videos. It's all one experience for us; in some ways it's cheating — it's free design work, we're publishing ourselves. We have to trade off who gets the album art on every release. But ultimately they inform each other. It all comes from the same place.
RR: I usually embed two songs in a review. My favorites are two of the softer songs, "Brighter Dawn" and "Captivated." What two would you choose?
MF: I love "Captivated". I think it's our best song. I like a song like "Friends Bail Always" to give a more complete picture of us as a band, the duality of soft and loud, of rock and restrain, fire and introspection.
RR: How long until Feral Conservatives is too big to do an email interview with a blog that has 50 readers?
MF: You only have 50 readers? Never mind then!
RR: If you could say anything to the 50 people who read Reverb Raccoon, what would it be?
MF: Support indie! Tell all your friends to read this fine blog that would feature us!
RR: What can we expect from Feral Conservatives in 2014?
MF: We are recording our follow up album in the Spring. We're very excited about that. We've been writing and demoing. More shows, more touring and in more cities we didn't get to last go round. Maybe another interview with Reverb Raccoon?
Thanks, Matt. We are looking forward to that interview next year!
Join Feral Conservatives on their website, Tumblr, Facebook, Twitter, and YouTube. Their music is available on Bandcamp.