​The following is an excerpt from a biography of Jack Corbett tentatively titled Jack Corbett — From the Grandstand.
—
Having entrusted yourself to Fortune's dominion, you must conform to your mistress's ways. What, are you trying to halt the motion of her whirling wheel? Dimmest of fools that you are, you must realize that if the wheel stops turning, it ceases to be the course of chance.
— Boethius, The Consolation of Philosophy, 523 AD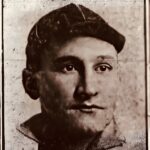 Fortune's Wheel stirred to life in October of 1910, when the Carolina Association reduced the monthly salary limit of each club, exclusive of the manager, from $1400 to $1200. The limit on the number of players – formerly twelve plus a player-manager – was eliminated, but the cost of hauling players around meant that rosters could not be significantly expanded. Players would earn about $100 per month. Most teams would be required to sell or release their best players and replace them with raw recruits.
Jack Corbett immediately became the subject of speculation. As a veteran entering his fourth minor league season and the best second baseman in the league, he was one of the higher-paid players on Jim Kelly's roster, probably earning significantly more than $100 per month. And despite batting only .235 in 1910, there were teams farther up the minor league ladder willing to pay hard cash for his contract. It was assumed that Corbett would be sold to a club in a higher class.
The wheel continued to turn. In November 1910, Corbett signed on to coach the Furman College baseball team the following spring in Greenville, South Carolina.
Coaching a college baseball team was a common early spring side-job for minor league players. In 1911, Jim Kelly coached at Presbyterian College, Electricians' pitcher and outfielder Andy McCarthy coached the Wofford Methodists, Spartanburg manager Billy Laval coached Erskine College, and Charlotte Hornets first baseman Red Garman was at Davidson. Tommy Stouch had coached Furman's Baptists in 1910, but the results were deemed unsatisfactory.
A college baseball coach put the students through their preseason workouts, dispensed professional advice, selected the roster, and led the team in the early-season games before turning the team's day-to-day operation over to a manager and departing for his real job. The coaches were great drawing cards for the schools. Carolina Association stars were celebrities in the little towns around the circuit, and the presence of a professional ballplayer on a campus was a source of excitement.
For a young player like Corbett, there was a downside to accepting a college coaching job: he would be occupied at least through mid-April, perhaps later, and would miss part of spring training. For an established player, the delayed report did not matter. And it was not an issue in the cash-poor Class D Carolina Association, where spring training was a brief affair. But Corbett would likely start the season with a brand-new club in a faster league. He would need all the playing time he could get if he was going to make the opening-day roster.
Committing to coach the Furman Baptists after learning of the salary limit reduction was a questionable decision. In 1908 and 1909 Corbett had started the spring with a Class C club but washed out into the rain barrel of Class D. Now he would probably have another shot in higher company but had given himself an impediment to success before he even knew where he would be playing.
On the plus side, there was the experience of actually managing a group of players, the exposure to a better class of individual than was typically found hanging around a Class D ballpark, and of course the extra money. And, if Corbett was a realist, he knew that he wouldn't stick with a club in any league better than the Carolina Association no matter how early he reported to spring training. He could barely hit a Class D curveball, much less any pitch with a better break.
Charley Carr entered professional baseball in 1895, at the age of 18. Two years later he made the majors, playing first base with the Washington Senators. He enjoyed nice runs with Detroit and Cleveland from 1903 through 1905, eventually spending parts of seven seasons at the top of the professional baseball ladder. Carr had a temper and a tongue, and his inability to control either made him a difficult person to deal with. His habit of arguing with the fans hastened his departure from the big leagues.
From 1907 through 1910 Carr was the player-manager for the Indianapolis club of the Class A American Association. Carr would have been aware of Johnny Corbett, the fast young infielder who played semi-pro ball in the towns east of Indianapolis. They may have met. In 1912 an Indiana reporter described Corbett as "a protégé of Charley Carr" but such relationships were often exaggerated in the hyperactive press.
Fortune's Wheel lurched again in December 1910 when Carr was picked to manage the Utica Utes of the Class B New York State League. At the same time, Anderson manager Jim Kelly was at home in Wilkes-Barre, Pennsylvania, which hosted a State League franchise, hawking his wares to the area teams. The league held its annual meeting in Albany on January 30, a gathering that usually fostered trades and contract sales.
On February 11, Kelly published his reserve list. Corbett's name was not on it. The following week Carr announced that he had acquired a new second baseman. He did not divulge the player's name but assured the fans that "the new man is a wonder." It was later revealed that the player was Jack Corbett. Carr had purchased his contract from Anderson in a straight cash deal.
Corbett was a backup plan. Carr hoped to see second base occupied by Joe Londrigan, a former University of Pennsylvania star who had played second base for the Utes in the closing weeks of the 1910 season. But Londrigan was under contract to a club in Jersey City, and multiple teams were seeking his services. "It will be a case of the best bidder landing him," the Scranton Times reported.
The clubs were competing, not just with each other, but with the rest of Londrigan's life. Baseball was his side gig. In the real world he was a medical doctor practicing at St. Mary's Hospital in Hoboken, New Jersey, a more stable and potentially more profitable profession than baseball.
In the spring of 1911 Jack Corbett was a 23-year-old veteran, confident and a bit cocky, and excited about his new adventure as a college coach. In the days before his appearance at Furman's Greenville campus, he traversed the South Carolina Piedmont region, first stopping in Spartanburg to check out Andy McCarthy's Wofford Methodists, then passing through Greenville to Anderson where he looked up the sports editor of the Daily Mail. In an article headlined JACK CORBETT IN TOWN we hear Corbett's voice for the first time.
Forecasting victory over McCarthy's Methodists and Jim Kelly's Presbyterians, Corbett said, "There's going to be great times in the college league this year. And what I'm after is putting it over Kel's bunch."
When asked about his future with Utica, Corbett replied, "Yes, I'm goin' to hold down the far end of the bench up there." He obviously harbored no delusions about his standing with the Utes.
Corbett spent the night of Tuesday, February 28 in Anderson. The next morning at 10:15AM he boarded the gas-hybrid interurban car for Greenville. The Daily Mail's writer saw him off: "Before leaving Jack said that he is going to try and give Furman the best team that has ever represented the college on the diamond."
Corbett arrived at the Furman campus on March 1 and was greeted with a five-course banquet in his honor, the first banquet devoted exclusively to athletics that had ever been held at the college. The dining room of Montague Hall was decorated with bats, gloves, mitts, and catcher's masks, and the new coach was given a rousing cheer when he entered the hall. Professor H.T. Cox said that he had never witnessed such enthusiasm.
The 23-year-old coach, barely older than his senior players and with no formal education beyond high school, addressed the crowd and promised to do his best for the college. He said that he planned to put forth his best efforts on behalf of Furman and that, judging by the spirit he had seen that night, he knew that he could put together a winning team.
The Baptists took to Corbett. "Coach Corbett is proving himself to be a splendid man for the place," one observer noted. He presumably kept any words learned from Jim Kelly under wraps and did not challenge the local umpires with the same energy that he expended on the Carolina Association umps. If he shared that his father had been a professional gambler, it was forgiven with a nod to Ezekiel 18:20.
Thirty-five young men tried out for the team. Corbett must have been in his element organizing and supervising the afternoon workouts. "Corbett has made a decided hit with the boys and is putting them through in a business like manner," the Greenville News reported. "Furman is lucky in securing him." The young coach already possessed the motivational skills that would make him an excellent minor league manager. "It is interesting to note the eagerness with which the contestants strive to excel. There is more rivalry and spirit shown this year than ever before."
Corbett laid it on thick. He claimed that his third baseman, the team captain, "has already shown himself to be a better man in this position than many who were in the Carolina Association last year." One of his candidates at shortstop was a basketball player with limited experience on the diamond. Corbett compared him to Claud Derrick, the star shortstop for the Greenville Spinners who would go on to play parts of five seasons in the major leagues.
Furman opened its season on April Fool's Day with a 5-3 win over Charleston College. They finished the season in mid-May, compiling a 5-5 record in the South Carolina Intercollegiate League, good for second place. Clemson ran away with the trophy, winning nine and losing only once.
Fortune's Wheel continued to turn.
Charley Carr was having no luck in landing Londrigan. He was finally and decisively outbid by Miss Marietta McGinty whose engagement to Dr. Joseph F. Londrigan was announced two weeks before the New York State League's season opened. The doctor said that he planned to leave the hospital and set up a private practice in Hoboken. When a reporter asked Londrigan where he would be playing that year, he replied, "I believe that I am through with baseball, and the indications at this time are that I am out of the game for all time to come."
The Utes began spring training on April 6 in Asbury Park, New Jersey. Corbett was scheduled to report in Utica on Sunday, April 23. But after Carr's quest for Londrigan fell through, he probably requested that Corbett report immediately. There is no evidence that Corbett ever made it to New York. He later said that he left the Utes due to "difficulties with the management." It seems certain that the difficulty in question was his reporting date, or his failure to show up at all. Carr and Corbett were both stubborn men with prickly temperaments. It is easy to imagine an exchange of increasingly heated telegrams or letters regarding Corbett's absence from the team that eventually ended in the breakup of manager and player.
Corbett had several reasons for remaining in South Carolina.
Corbett's Baptists played Andy McCarthy's Methodists three times in 1911. The teams split the first two games, with the rubber match being held April 21 in Greenville. Andy McCarthy was still with his team, and Corbett no doubt wished to be on the diamond to personally wrest bragging rights from his friend and former teammate. Wofford took the game 4-2, a sign that the baseball gods favored aspersion over immersion.
The next day Furman journeyed to Anderson for an exhibition game against Jim Kelly's Electricians. Corbett would have wanted to be on hand to visit his old teammates and to let them see him coach his boys. Kelly sent an ambidextrous pitcher named Pisarski to the mound and Anderson won 4-3.
Or Corbett may have wanted to be with his team for a pair of games against "Kel's bunch" from Presbyterian College, played April 24 and 25 in Greenville. The first game, won by Furman 4-1, was witnessed by "a grandstand full of young ladies" from Chicora College and the Greenville Fellowship Church, which raises the possibility that Corbett had romantic reasons for remaining in South Carolina. The latter game, captured by the Presbyterians 7-6, was umpired by Charles Ochs, Corbett's fellow Electrician from back in 1909.
And if the baseball games were not sufficient reason to remain in the south, there was the annual Furman picnic, held Saturday April 29 at Traveler's Rest, a park-like hamlet near the base of the Blue Ridge Mountains.
"Of all the occasions of the year, this is looked forward to with more joy and heart happiness than any other," the Greenville News declared. "Not alone for the reason as stated by Tennyson, 'that in the spring a young man's fancy lightly turns to thoughts of love,' though on this occasion many a young man thinks he has found his destiny, but also for the reason that on this day of days, every one is certain of getting chicken, cake and pie and all other good things to eat."
The ladies of Greenville assembled sufficient picnic baskets to feed the masses. On the morning of the picnic, a horse and dray made the rounds of the homes that had promised to produce baskets and carted the goods to the Southern Railway depot where a special train was waiting to carry both baskets and students to Travelers Rest.
Or perhaps Corbett knew that he would never last in the Class B New York State League, had no desire to "hold down the far end of the bench" for Charley Carr, and chose to remain in the warmth of South Carolina for as long as possible.
Fortune's Wheel lurched again, and another Indiana infielder was caught in its spokes.
Up in Utica, Charley Carr apparently abandoned hope of ever seeing Corbett. On April 22, the day before Corbett was due to report, Carr purchased the contract of second baseman Herman Priepke from the Boston Red Sox. Priepke was from Logansport, Indiana, about 75 miles north of Indianapolis, and Carr was probably familiar with him.
Carr was not much of a horse trader; he failed to look his new player in the mouth. Priepke was seriously ill, having contracted a cold during Boston's spring training which, for some reason, had been held in the very unspring-like fog and damp of Oakland. He wheezed through a couple of innings with the Utes in an exhibition game against Altoona, then took to his bed with pleuro-pneumonia. It was decided to ship Priepke back to Boston and his trunks were forwarded to the train station. Priepke, though, was too weak to follow his bags and he died luggageless in Utica, with his wife beside him, on May 11 at the age of 31.
The Utes were scheduled to open their season on May 3 in Syracuse. Probable lineups published that morning in newspapers around the circuit showed Corbett at either second or short. That may have been wishful thinking, or Corbett may have finally committed to arriving by game time. Freezing temperatures and a light snow pushed the game back to May 5. On that day, Corbett was in Winston-Salem playing second base for the Electricians in a 5-2 win over the Twins, having arrived in town that morning.
The weekly bulletin from Secretary Farrell of the National Association of Professional Baseball Leagues indicates that Corbett was unconditionally released by Utica prior to May 12. Charley Carr had no incentive to release him, and Corbett probably used some of the cash he had earned coaching Furman to buy his own release, compensating the Utes for whatever Carr had spent purchasing his contract, plus Carr's outlay on the doomed Priepke. And down in the buyer's market of Anderson, Jim Kelly was more than happy to sign the Carolina Association's best second basemen for less than he had paid him the previous season.
Corbett was a motivated seller of his services. He loved the South, enjoyed its warmth, the smell of the grandstand's pine timbers baking in the afternoon sun, loved to throw his glove in the sandy, hookworm-laden dirt when an ump called an obvious strike the wrong way. He reveled in his celebrity there, had friends and teammates there, was respected by the faculty and students of an institution that would never have accepted him if he was not the star second baseman for the Anderson Electricians. He enjoyed the easy banter with the locals in the drug store, the give-and-take with the loafers who sat on the benches outside the Western Union office. He probably had a girlfriend there.
Anderson had opened its season the previous week and, after Corbett's first game, possessed a 4-4 record. Kelly's club then sank into the cellar – sixth in the six-team Carolina Association — where they remained for the next two months before scrabbling up to fourth.
The Carolina Association switched from a rubber-cored ball to a cork-centered ball in 1911 and the hits began flying out of the little parks. "It's getting so now that the player who knocks a home run or two during a game isn't much of a hero as of old," one writer complained. Batting averages jumped. When the Carolina League released its official statistics on May 31, Shortstop William Kelly, known as Little Kelly to differentiate him from his 200-pound manager, led the Electricians with a .362 average. Corbett, usually batting in the two-hole, showed a solid .288, good for fifth best on the team.
Between May 05 and May 31, Corbett appeared in 17 games at second base. He was not the sensational fielder of previous years, committing 11 errors during that span for a .909 fielding average.
Fortune's Wheel snagged a page from the calendar. Jim Kelly moved Corbett to center field where he played another ten games before returning to the infield. For two games he spelled Tom Fogarty, a sweet-voiced first baseman who sometimes serenaded the grandstand between innings and had a side-job as a vaudeville crooner.
June, July, and August were known as "the typhoid months." Warming temperatures fostered the growth of Salmonella enterica in the outhouses and cesspools that lay beyond the reach of city sewer systems. The infected fluids, and the waste from improperly sealed sewage lines, filtered into the aquifers accessed by wells providing water for homes, dairies, and ice plants. Automobiles were popular in the towns – drivers parked their vehicles down the middle of Anderson's unpaved streets – but the engines that powered commerce and agriculture were the horse and mule. Flies emanated from the stables and swarmed around the outhouses, carrying S. enterica to open-air vegetable markets, butcher shops, and kitchen tables.
The 1911 season was a prolific one for S. enterica. The Charlotte Observer punned that it was "a banner year for Ty Cobb and typhoid."
Jack Corbett came down with typhoid fever around June 21 during a series in Spartanburg. Electricians Andy McCarthy and Bob Clark also developed the disease. The conventional wisdom of the day was that the players had contracted typhoid in Charlotte, where they had played a two-game series just prior to visiting Spartanburg. Charlotte's city reservoir was said to be in an unhealthy condition, but city officials denied that it was a source of typhoid. The water was being treated with chemicals to fight the bacteria, and people complained that their tap water tasted like medicine.
It is more likely that the players contracted typhoid in Anderson. The typical incubation period for typhoid fever is seven to fourteen days. Counting back from June 21, Corbett was in Anderson for home games from June 11 (eleven days prior to illness) through June 15 (six days before illness). Bob Clark, one of a string of recruits that Jim Kelly tried out at second base, turned up with typhoid around July 13. He had been in Anderson from days eight through eleven prior to showing symptoms. And Andy McCarthy, who turned up sick around June 27 while in Anderson, had been in the Electricians' hometown zero-to-five and twelve-to-sixteen days before becoming ill.
Given the nature of ballplayers, they may have encountered the disease at a blind tiger – an establishment that sold illegal liquor. The clubs were not noted for their sanitation. A sportswriter who was familiar with their wares said, "the stuff they hand out is awful." A popular product was something called Dynamite, which was moonshine dosed with red pepper.
The worst offenders were the "pocket blind tigers," moveable operations that dispensed whiskey from barrels carried in horse- or mule-drawn carts. One enterprising seller hid in plain sight by parking his wagon in front of the Winston-Salem city hall. His kegs were disguised as refuse barrels and, to aid in the subterfuge, a barrel containing stinking swill was included in the load.
Corbett was in a bad way and was sent to the hospital where he was joined by Andy McCarthy. After two weeks of treatment, it was predicted that Corbett would rejoin the Electricians on July 10 for a series in Greensboro. But two days later Corbett and McCarthy were still confined to the hospital. The players weren't back on the streets until July 18. Corbett had been ill for twenty-six days and was very weak. Two days after leaving the hospital, Corbett and McCarthy accompanied the Electricians to Charlotte for a three-game series beginning on Thursday.
The Saturday afternoon game was umpired by Charles Liebrich. In the seventh inning, Electricians first baseman Curtis McCoy took exception to Liebrich's call regarding a close double-play and, according to the Charlotte News, "proceeded to deliver a speech right in the middle of the diamond. The Umps warned the orator that if he was very anxious to speak he would be glad to hire him a hall but that he did not have time to hear him deliver the said speech right at that present time."
McCoy persisted and was ejected and fined $10. Corbett replaced him and "took care of the bag in good style and pulled down a liner from the bat of [Charlotte first baseman Red] Garman that would have meant a run." He batted once but did not reach base.
Despite his good style, Corbett was too weak to continue with the Electricians and left for home the following day. He arrived back in Anderson, Indiana, on Wednesday, July 26.
Corbett had experienced his best season so far in 1910, when he played in every game. In 1911, Fortune's Wheel brought him low, and he recorded what would be the worst season of his ten-year professional career as he appeared in only 34 games. His batting average was a cork-center-assisted .313, but his fielding average at second base fell off to .921, thirty-one points less than in the previous year.
On the other side of the ledger, he had gained valuable experience coaching the Furman team and had fit in well with the college crowd. His time with the Baptists may have cost him his chance with Charley Carr's Utica Utes but, looking forward to a day when the wheel would once again carry him to the top, his time at Furman would make Corbett a more attractive candidate to manage at the professional level.
The previous off-season, Corbett had signed on to play third base for manager Shad Cunningham's semi-professional Muncie team, then jilted Cunningham for the Maxwell-Briscoe team when he was offered a winter job in their new automobile factory. After returning to Indiana in 1911, Corbett was again hired by Cunningham who was willing to forgive and forget in exchange for getting a star cornerman.
The Muncie Star Press announced Corbett's signing and provided one of the best surviving descriptions of Corbett as a third baseman: "The youngster was undoubtedly the best that ever covered the third bag in Muncie. He is a sensational fielder that can always be depended upon, and he has a whip to first that sends the ball like a bullet."
Johnny Corbett, as he was still known in his home state, held down third base for Muncie in a home game against the Indianapolis Reserves played Sunday afternoon, July 30. Cunningham's bunch went down 13-7 and the crowd jeered their own team.
Though dependable on the field, Corbett apparently had little loyalty to Shad Cunningham. Corbett jilted Cunningham again, saying that he was too weak from his bout with typhoid to play out the season and that his physician had ordered him to retire from the game. But the following Sunday found Corbett playing third base for his old friends at the Maxwell-Briscoe auto factory.
Based in New Castle, the Maxwell-Briscoe team was managed by Dal Williams, the Anderson man who had recommended Corbett to the Davenport Class B club back in '09. Some unspecified dissatisfaction developed between Corbett and his new manager, and by August 20 Corbett was playing shortstop for Richmond, Maxwell-Briscoe's rival in the Eastern Indiana Sunday Baseball League, where he remained for the rest of the season.
In the final game of the Sunday League season, played against the automakers in New Castle, Corbett proved that he was fully recovered from his previous illness. "He had eight chances and got every one," the writer for the Richmond Item enthused. "He grabbed them up in all positions and shot them with the unerring aim of a rifle expert into [first baseman] Boll's glove… Corbett's plays were every one difficult."
But at the same game, Corbett caught considerable flak from a foul-mouthed New Castle fan who evidently was unhappy with the infielder's previous departure from the club: "Throughout the game, and with Corbett doing the only attractive work, he was subjected to the most insulting remarks a nonentity possibly could deliver… Some galoot in the bleachers cut loose the filthiest kind of invective that became so rank other rooters for the home club turned against him and made him shut up before the game was over. The police chief sat in the scorers' box, within easy hearing distance of the befouling talk and laughed about it. It had no effect on the field work of the star, but he showed signs of being bothered when at bat and within a few feet of the pest."
The visitors tallied only two hits on the day, neither by Corbett, and lost to Maxwell-Briscoe 0-4. Richmond won the war, though, taking the Sunday League pennant with a record of eleven wins and five losses.
Richmond closed out its season on October 15 with an exhibition game against the visiting Cincinnati Muldoons. The locals won 7-1 with Corbett, splitting time between short and second, making three hits and scoring two runs.
Rabbits were a pest in the Indiana farmlands. They were especially harmful to fruit trees, gnawing the bark from the base of the tree in winter and exposing the cambium to freezing temperatures. They were hunted with guns, traps, and ferrets. The latter method was highly effective; a commercial hunter armed with a pack of ferrets could bring in fifty rabbit carcasses each day.
During Richmond's final game, an unfortunate rabbit sprang from a swatch of tall grass that grew along the foul line beyond first base. Fortune's Wheel cast the bunny as the featured attraction of the game "with the batter and his warclub, the catcher and his mask and protector and fifteen other players and the umpire giving chase." But the wheel turned, and the show's star was brought low. "The batter landed. So did the pitcher. The batter hit the rabbit with his cruel bat, while a well directed throw (it was a wonderful exhibition of pitcher's control) both smacked Mr. Bunny from different angles and he keeled over."
The rabbit's left foot was cut off and awarded to a fellow who looked in need of good luck, while what was left of the hare was given to a boy whose family perhaps needed a good meal.
Five hundred fans witnessed the event. After the Muldoons were paid off, the Richmond players split the remaining take. Corbett went home with eight dollars in his pocket.