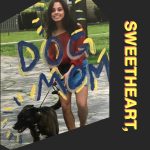 One day in the not-too-distant future, I'm going to call up one of those Pitchfork reviewers and say, "I was into Dog Mom from Day One. Where were you? The most trusted voice in music. Yeah, right. I wouldn't trust you to review an old man playing an Irish jig on a tin whistle." So let me explain to the Pitchfork reviewers, and to all the other wankers holed up in their mom's basement eating Nutella 'n Cheez-Whiz sandwiches on white bread with the crusts torn off and passing themselves off as cutting edge music bloggers, what they are missing…
You are missing out on a first rate vocalist. Dog Mom has the soul of a soul singer (you see what I did there?), delivering her songs with an expressiveness that is both beautiful and haunting. The vocals on her first single, "Blue," earned that track Song of the Day honors. We are happy to report that she sounds even better on more recent tracks such as today's SOTD, "Sweetheart,." Now, at some point, we're going to have to address that comma in the song title. I'm willing to work around it just because I know it will drive you guys at Pitchfork right up the wall. Now back to what you know-nothings are missing…
You are missing a very good songwriter with the ability to create a hook using a handful of widely-spaced notes from a guitar and keyboard. It's quite annoying, really. Overlay that with a vocal track that crafts a melody out of the air and we have a song that could be passed on into a warm summer night from the roof of a building, or from an empty bridge spanning a river.
And finally, anyone not following Dog Mom is missing out on some Next Level Underwear Music: songs that a person writes and records following a breakup while sitting on a bed in their underwear. Dog Mom takes this to the next level by anticipating the breakup, not only recording the Underwear Music before the breakup occurs, but potentially causing the breakup by creating the song.
Knowing me, thoughts will eclipse reality
And that'll be what drives you away from me
It'll be me realizing my nightmares
It's my fault nobody cares
I get paralyzed in my head
I've already made and done laid in my bed
Dog Mom is Kim something. Her Spotify bio describes her as "a '99 born girl from Chicago, Illinois, just trying to make music that is okay." On Bandcamp she self-identifies as "just a girl who loves girls makin' some tunes in her room." Dog Mom is associated with Sematary Records, "a record label focused on giving Queer and POC youth a larger platform to distribute their art." Check out the label's Bandcamp page. There's some interesting stuff there and I'll bet no one at Pitchfork has bothered to listen to any of it.
You can help support deserving musicians like Dog Mom by visiting her Bandcamp page, listening to her songs, and downloading your favorite tracks. Be sure to buy something. As Dog Mom says,
But anyway y'all should follow suit and buy this on iTunes or my Bandcamp because streams get you no money 😩

— kim (@dogmommy420) June 5, 2018